Here is one SR Johnson and I did recently with the description from Knife Legends: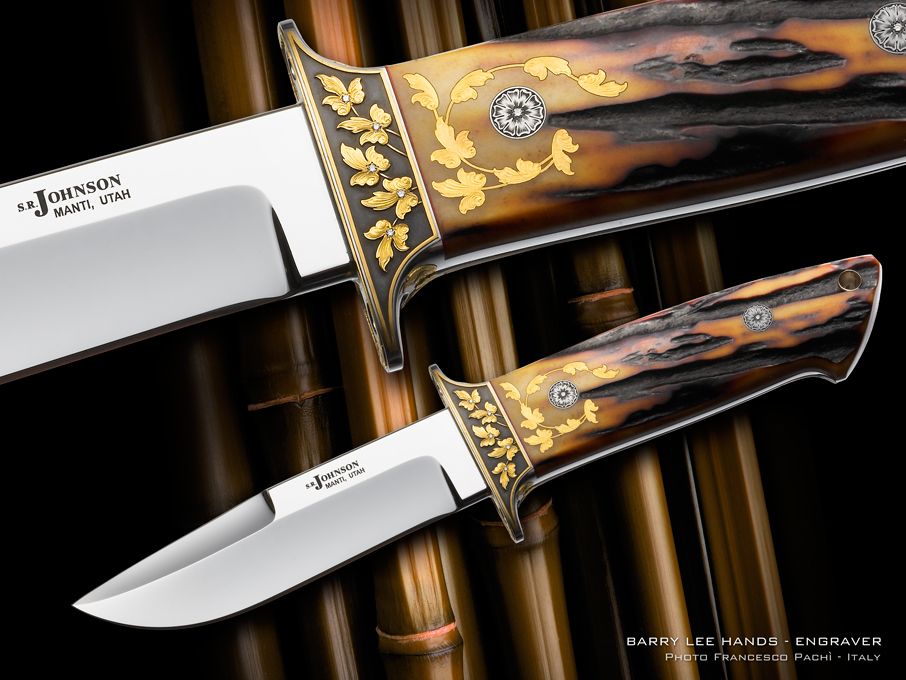 Blade Length: 4 1/2 inches Overall Length: 9 1/4 inches
Closed Length: Fixed Blade Sheath/Case: Zipper Case
Blade Steel: ATS-34
Bolster/Guard: Stainless
Handle Material: Presentation Grade Sambar Stag
Comments: At this point it's pretty much a given that Steve Johnson makes the finest traditional stock-removal custom knives on the planet. And this model is one of Steve's most famous, a Loveless Style Chute, complete with all stainless fittings and a proper leather sheath.
The scales are outstanding presentation grade Sambar stag, and the grind, fit and finish are just what you would expect from the best - simply flawless! No serious collection of modern traditional fixed-blade custom knives is complete without at least one Steve Johnson.
This particular Chute has been turned into something really special by Master engraver Barry Lee Hands. And we think it's best for Barry to tell you in his own words what makes it so special!
The stainless steel fittings are enhanced with 22k gold sculpted overlays and diamond settings. Each side of the stainless guard is lavishly adorned with five 22k gold leaves and stems set with white diamonds surrounded by a raised 22k gold border.
The designs flows back into the presentation Sambar stag scales where eight more gold leaves are inlayed into each side. This is a new technique, we have never seen before, invented by Barry for this knife. The bolts are engraved and set with white diamonds, and on the entire knife we count fourteen diamonds altogether.
The front of the guard features a gold border and sculpted gold leaves. Even the back of the Quillions are decorated with gold, a rare and unusually lavish treatment. The 18K yellow heavy gold thong hole balances the butt with another splash of gold.
This knife is easily the most deluxe Chute ever made!
Here is a link to the site:
http://www.knifelegends.com/Johnson%...g%20Chute.html